Accommodation Trivia
Guesthouse vs. B&B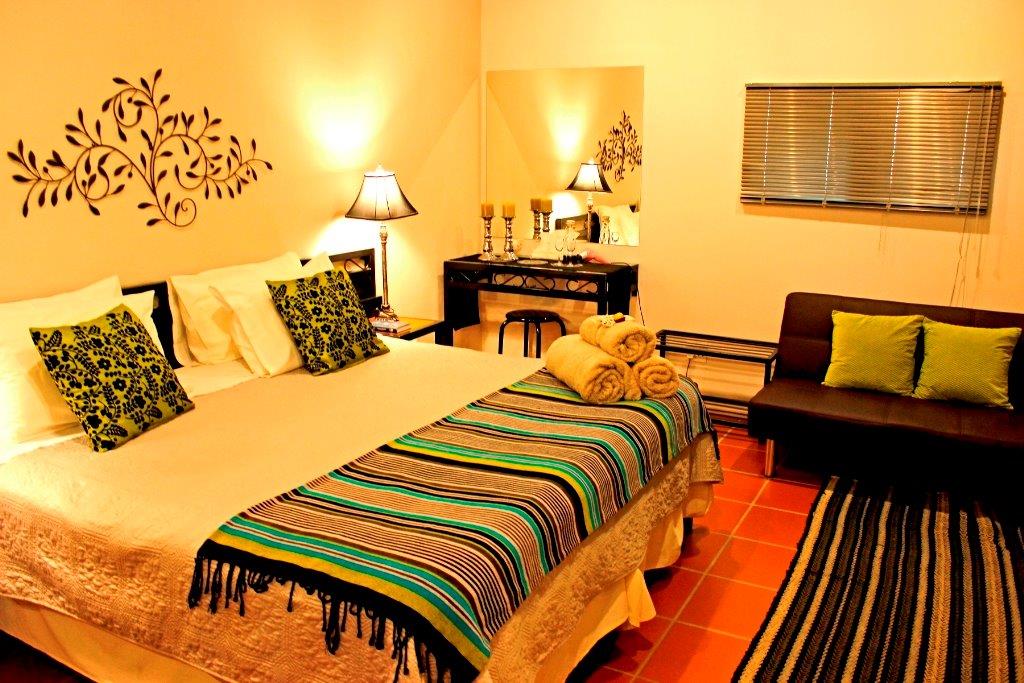 The owner of a Bed & Breakfast usually lives on the premises. You can expect breakfast as part of your accommodation. Bathrooms may be en-suite, private or you may have to share amenities with other guests. Prepare yourself to share living areas with other people living on the premises.
A guesthouse is a home which was specifically transformed or built for the purpose of providing more private accommodation. Guests have access to exclusive areas, e.g. living room, balcony, dining room, and outdoor areas like the pool, garden and braai area. A guesthouse ensures more privacy during your stay.
A B&B is ideal if you are looking for safety and comfort at a reasonable price for a quick stay over.
Guesthouses are perfect for a short stay if you are seeking for home comforts in private and luxurious surroundings.
When planning to lodge in a B&B, ask whether the bathroom is private, en-suite or shared. Also enquire whether towels and other meals than breakfast are served.
When you are considering lodging in a guesthouse, ask about facilities like refreshments, entertainment and security.
Boutique Hotel
This description fits a hotel which offers a service to clients who wish to enjoy a unique experience. Basically there are two kinds:
One is a boutique hotel in a city with special ultra-modern décor and furniture. Only the best in the field of technology like plasma screen and surround sound systems together with quality works of art and small detail, are usually found.
The other kind is one which enables you to escape to fantasy surroundings in a castle or mansion. There may be no TV but only bubble baths, candlelight baths and Egyptian cotton sheets. The focus is mainly on unique experience.
Boutique hotels are ideally suited to people who enjoy style, luxuries and a uniquely different experience. This is perfect for romantic breakaway or an experience where you may be pampered and spoilt.
Check whether meals are served and whether room service is available. Mostly all the rooms in a boutique hotel are uniquely decorated and it might be fun to ask to see all the rooms and then decide which one you like best. You can usually check on the website or brochure.
Hotel
A hotel is required to supply accommodation and meals. You can know what to expect if you pay attention to star grading. Only the basics are available in one star hotel while a fie star hotel should supply all the luxuries e.g. luxury toiletries, bedding and linen, heated towel rails, bathroom robes and slippers, satellite TV and DVD player, a mini bar and 24 hour room service. A very wide variety of services and facilities are offered by hotels e.g. heated swimming pools jacuzzi's, game rooms, sports facilities, nanny services, entertainment and laundry and porter services. A hotel with a higher star grading will offer more luxury services than a hotel with a lower grading.
You will find a hotel to suit every taste, be it a business journey or maybe a romantic getaway. If you want to relax and just enjoy the services offers by a hotel, this may be the option you need.
Find out whether the tariffs are per room or per person who is sharing. Find out if there are special tariffs for children and out of season tariffs. Enquire whether the room has a view and if it influences the price. Make sure whether the room has two single beds or one double bed. Find out if transport is available from the airport and which facilities are on offer e.g. nanny services, room services, laundry facilities, TV and satellite TV , bar fridge, personal safe and air conditioning.
Lodges
The surroundings and the experience are often of more importance at a lodge than the accommodation. A lodge is usually in or near a nature or game reserve. Guests then can make use of game drive or hiking. The accommodation can vary from a bush or farm atmosphere to one or absolute luxury, depending on the star grading. Meals and drinks are usually offered. You can normally expect the same luxuries as offered at a hotel.
Lodges are usually sited in very ideal surroundings and offer nature- and animal lovers the luxury of modern amenities.
Make sure whether game drives, meals and hikes are included in the price of the accommodation or whether they are extras. Some lodges have different bathroom facilities like spa bath, outside shower or bathroom with a view on offer. Ensure whether fans, air conditioners or mosquito nets are available as heat, mosquitoes and crawling insects are all part of the nature experience.
Check recreation facilities e.g. horse riding, swimming and spa facilities. Television and satellite services are usually optional in this kind of accommodation. Should you be flying to your destination enquire what transport facilities are available to the lodge and whether costs are included or extra.
Self-Catering
Self catering accommodation can include any of the following: a flat, a cottage, farmhouse, or even a houseboat. Cooking facilities are usually included in the form of a stove, a microwave and a fridge together with cutlery. Linen is not always supplied. Sometimes cleaning services, laundry facilities (on the premises or in the flat itself) and a TV on request are available.
This could be an excellent option if you have a big family and do not mind to do a bit of work yourself and wish to make use of cheaper accommodation. Self-catering accommodation can be a cheaper option if the flat price is per unit and not per person. This type of accommodation can be usually house four to six persons. Children usually enjoy this type of surroundings as it is relaxing and private. Self-catering accommodation is ideal for long family holidays or when a group goes on holiday together.
Find out what appliances are available e.g. fan, microwave, heater, linen and blankets pillows, TV and basic appliances. Find out whether the unit has a bath or shower and how many beds there are in each room. Certain self-catering units do not supply bedding, while others are luxurious with air conditioners TV, laundry facilities and even a restaurant on the premises. Find out whether cleaning services are available. Check whether the tariffs for recreation are per person or unit per day.
Akkommodasie Trivia
Guesthouse vs. B&B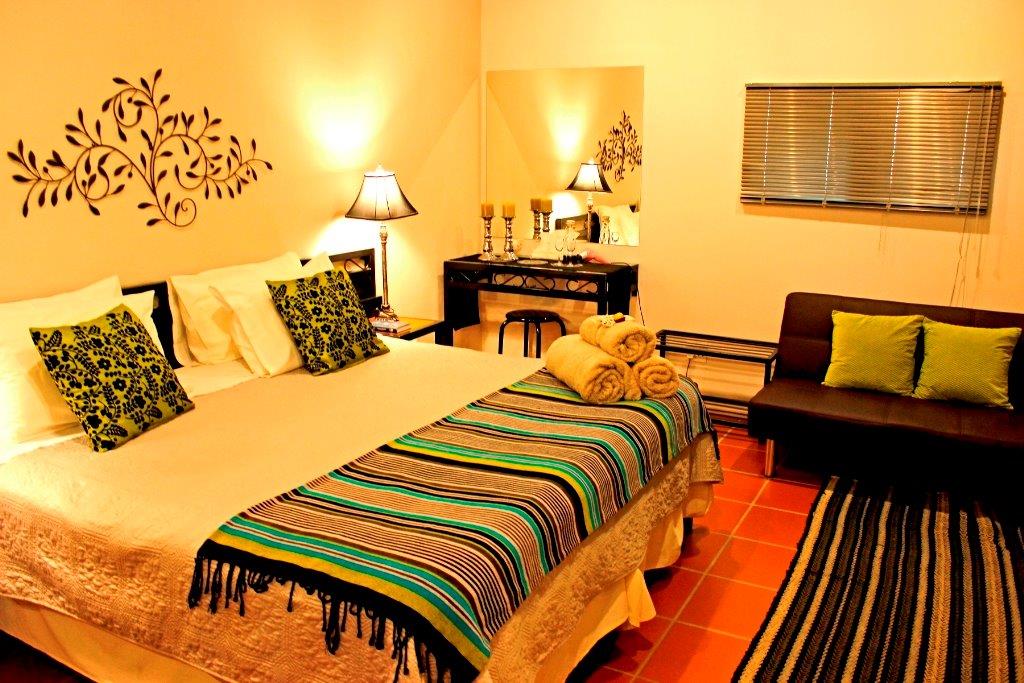 Die eienaar van 'n Bed & Breakfast woon gewoonlik op die perseel. U kan ontbyt verwag as deel van u akkommodasie. Badkamers kan en-suite, privaat of ugedeel word met ander gaste. Berei jouself voor om leef areas met ander mense te deel.
'n Gastehuis is' n huis wat omskep of gebou is spesifiek vir die doel van die verskaffing van meer privaat akkommodasie. Gaste het toegang tot eksklusiewe gebiede, bv. woonkamer, balkon, eetkamer, en buite gebiede soos die swembad, die tuin en braai area. 'n Gastehuis verseker meer privaatheid tydens u verblyf.
'n B & B is ideaal as u op soek is na veiligheid en gerief teen 'n billike prys.
Gastehuise is ideaal vir kort verblyf as u opsoek is na goeie geriewe in 'n private en luukse omgewing.
Wanneer u beplan om in 'n B & B te oornag, vra of die badkamer privaat, en-suite of gedeel is. Vra ook of handdoeke en etes anders as ontbyt bedien word.
Wanneer u dit oorweeg om te oornag in 'n gastehuis, vra oor fasiliteite soos verversings, vermaak en sekuriteit.
Boutique Hotel
Basies is daar twee soorte:
Een is 'n boetiek hotel in 'n stad met spesiale ultra-moderne dekor en meubels. Net die beste in die gebied van tegnologie soos plasma skerm en klank stelsels saam met gehalte kunswerke en klein detail, word gewoonlik gevind.
Die ander soort is die een wat jou in staat stel om te ontsnap na 'n fantasie omgewing in 'n kasteel of herehuis. Daar mag geen TV wees, maar net borrel baddens, kerslig baddens en Egiptiese katoen lakens. Die fokus is hoofsaaklik op 'n unieke ervaring.
Boutique hotels is ideaal vir mense wat styl en luukshede geniet. Dit is ideaal vir 'n romantiese wegbreek of 'n ervaring waar u kan vertroetel en bederf word.
Vra of maaltye bedien word en of daar 'n kamerdiens beskikbaar is. Omtrent al die kamers in 'n boutique hotel is uniek versier en dit kan pret wees om te vra of u al die kamers kan sien en dan besluit watter een u die meeste hou. U kan gewoonlik kyk op die webwerf of brosjure.
Hotel
Van 'n Hotel word verwag dat verblyf en etes verskaf word. U kan weet wat om te verwag as u aandag gee aan die ster gradering. Slegs die basieseis beskikbaar in 'n ster hotel, terwyl' n vyf ster hotel voorsiening maak vir al die luukshede soos luukse toiletware, beddegoed en linne, verhitte handdoekrelings, badkamer klere en slippers, satelliet-TV en DVD-speler, 'n mini-bar en 24-uur kamerdiens. 'n Baie wye verskeidenheid van dienste en fasiliteite word aangebied deur hotelle bv. verhitte swembaddens jacuzzi's, speel kamers, sportgeriewe, kinderoppasser dienste, vermaak en wasgoed.
As u wil ontspan en net die dienste wat die hotel bied geniet, kan dit 'n goeie opsie wees.
Vind uit of die tariewe per kamer of per persoon wat deel is. Vind uit of daar is spesiale tariewe vir kinders is en ook buite seisoen tariewe. Doen navraag of die kamer 'n uitsig het en hoe dit die prys beïnvloed. Maak seker of die kamer twee enkel beddens of 'n dubbel bed het. Vind uit of vervoer beskikbaar is vanaf die lughawe en watter fasiliteite word aangebied.
Lodges
Die omgewing en die ervaring is dikwels van meer belang by 'n lodge sd die verblyf. 'n Lodge is gewoonlik in of naby 'n natuurreservaat of wildreservaat. Gaste kan dan gebruik maak van wild roetes. Die hotel kan wissel tussen 'n bos of plaas atmosfeer na 'n absolute luukse atmosfeer, afhangende van die sterre gradering.
Etes en. drankies word gewoonlik aangebied. U kan gewoonlik verwag dat die luukshede soos aangebied word soos by 'n hotel.
Lodges is gewoonlik geleë in 'n baie ideale omgewing en bied die natuur-en diere- liefhebbers die luuksheid van moderne geriewe.
Maak seker of wildritte, etes en staptogte ingesluit is. Maak seker of lugreëlaars of muskietnette beskikbaar is aangesien hitte, muskiete en kruipende insekte almal deel is van die ervaring.
Vra oor ontspanningsgeriewe bv. perdry, swem en spa-geriewe. Televisie en satelliet dienste is gewoonlik opsioneel in hierdie soort akkommodasie. Indien u vlieg na u bestemming vra watter vervoer fasiliteite is beskikbaar by die lodge en of kostes ingesluit is.
Selfsorg
Selfsorg akkommodasie kan enige van die volgende wees: 'n woonstel, 'n huis, plaas, of selfs 'n huisboot. Kosmaak fasiliteite is gewoonlik ingesluit in die vorm van 'n stoof,' n mikrogolfoond en 'n yskas saam met eetgerei. Linne word nie altyd voorsien nie. Soms is skoonmaakdienste, wasgoed fasiliteite (op die perseel of in die woonstel self) en 'n TV op aanvraag beskikbaar.
Dit kan 'n uitstekende opsie wees as jy' n groot familie het en nie omgee om 'n bietjie van die werk self te doen nie, en gebruik wil maak van goedkoper verblyf Self-catering verblyf is ideaal vir lang familie vakansies of wanneer 'n groep saam gaan op vakansie.
Vind uit wat toestelle is beskikbaar bv. fan, mikrogolf, verwarmer, linne en komberse kussings, TV en basiese toerusting. Vind uit of die eenheid 'n bad of stort het en hoeveel beddens daar is in elke kamer. Sekere selfsorg-eenhede voorsien nie beddegoed nie, terwyl ander luuks is met lugversorgers, TV, wasgeriewe en selfs 'n restaurant op die perseel. Vind uit of skoonmaak dienste beskikbaar is. Vra of die tariewe vir ontspanning per persoon of eenheid per dag is.