Attractions
We have compiled a list of attractions in Kimberley. Take time to enjoy Kimberley's rich history and diverse culture during your stay.
The Big Hole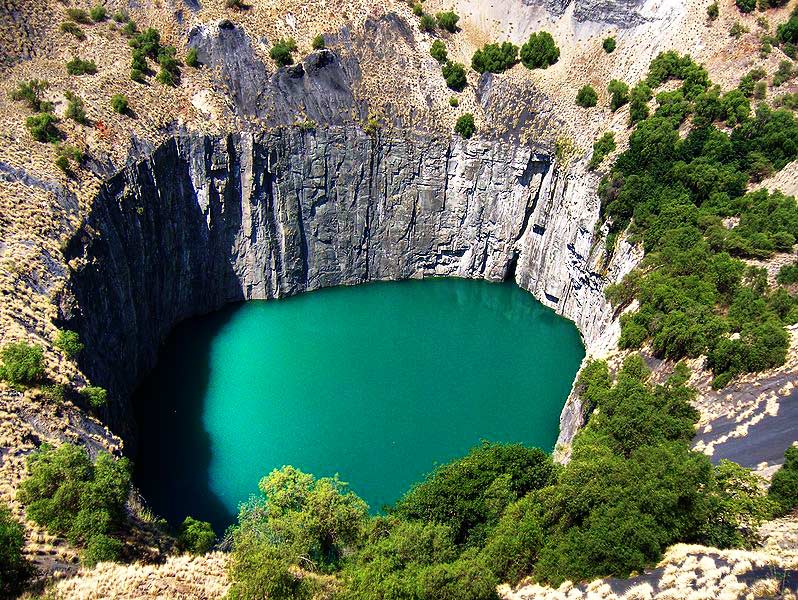 Also called the Open Mine or Kimberley mine, it is an open-pit mine and claimed to be the largest hole excavated by hand. From 1871 to 1914 up to 50,000 miners dug the hole with picks and shovels, yielding 2,720kgs (6,000lb) of diamonds.
Once above-ground operations became too dangerous and unproductive, the Kimberlite pipe of the Kimberley Mine was also mined underground by Cecil John Rhodes' De Beers company to a depth of more than 1km.
In 2006 De Beers invested R50 million (about USD 7.7 million) in the renovation of the Big Hole heritage site. The museum has been modernized, with an audio-visual theatre and a cantilevered platform above the rim of the Big Hole that allows visitors a vertical view down into the hole, as its end is across the rim.
William Humphreys Art Gallery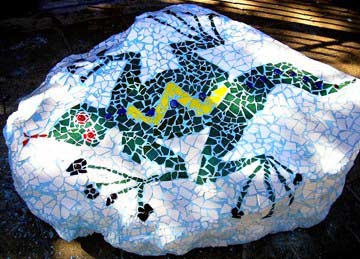 The William Humphreys Art Gallery is considered one of South-Africa's finest art museums.
The gallery concentrates on collecting truly South-African works of art.
Additionally, the Gallery serves Kimberley's community as an educational and cultural centre.
Visit the gallery's website for more information.
McGregor Museum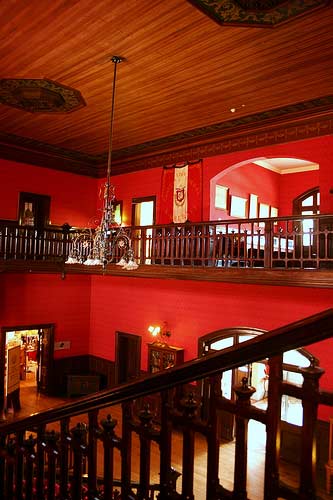 The McGregor Museum was officially founded in 1907, following several calls for the establishment of a museum in Kimberley. Eventually, Mrs McGregor, widow of the previous mayor of Kimberley, Alexander McGregor, donated the funds necessary to establish the museum.
The building that currently houses the museum was originally constructed in 1897 by De Beers as a sanatorium. Since then, the building has been used as a luxury hotel (Hotel Belgrave) and later as a convent school.
The museum provides research and advice on a wide range of community projects throughout the Northern Cape. For more information, visit the museum's website .
Flamingo Casino
As a celebration of the turn-of-the-century style and romance of this Victorian age, the design of the Flamingo Casino is based on the contemporary architecture of the gracious buildings in modern Kimberley that survived the rash days of the diamond rush.

The casino provides a fun, exciting and memorable gaming experience to its customers.
It sports an elegant restaurant, providing a lavish dining experience for the whole family, a conference centre, bars and a small retail component.
The Belgravia Historical Walk
Experience the lifestyle, history, architecture, entertainment and culture of the historical diamond rush era in Kimberley. The guided walk is about 2km long and includes all the key historic sites in the area.
During the walk you will visit more than 30 places of interest, including the McGregor Museum, The Halfway House, Sister Henrietta Stockdale's Nursing College, the war memorial, Masonic temple, the Rudd house, Dunluce and Alex Hall Memorial Gardens.
Visit Northern Cape Tourism for more information.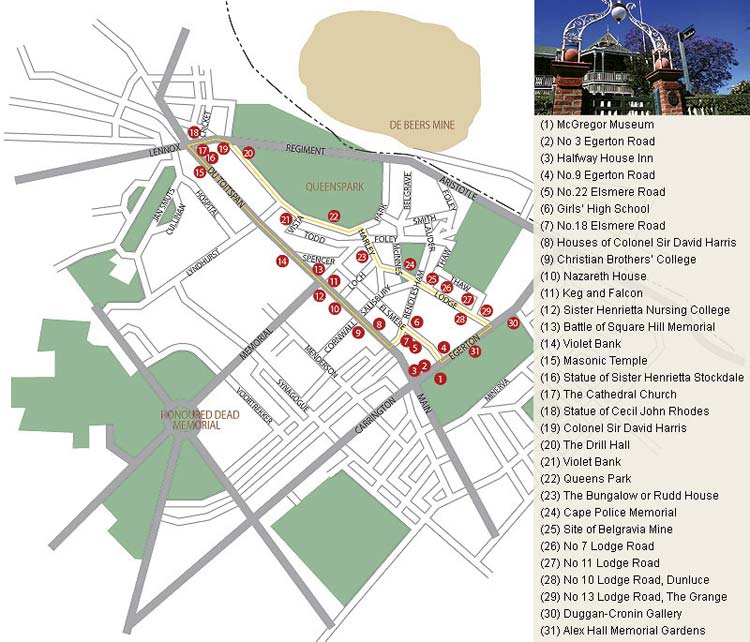 Wildebeest Kuil Rock Art Centre
The rock art centre is situated just outside of Kimberley. It sports a visitors' centre where a 25-minute film is shown to introduce you to the site.
The community-based guides are trained to show you the site or you may choose to go on an audio tour of the site (you will receive a small portable audio player), and you will enjoy equally fascinating commentary at each of the 10 marked "stations".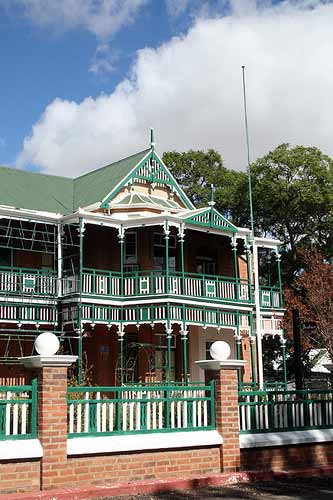 Dunluce Home
An elegant home built in 1897 and declared a national monument in 1990. The house was designed by the well-known architect D.W. Greatbatch.
A short way off was the Sanatorium (now McGregor museum), used by Rhodes as his headquarters during the siege of Kimberley (1900). A 100 lb shell from Long Tom, aimed by the Boers at the Sanatorium, fell short, and instead landed through the roof of the house, damaging a bedroom and breakfast room below. This event was recorded in the Souvenir of the Siege of Kimberley, published by the Diamond Fields Advertiser.
Magersfontein Battlefield (1899)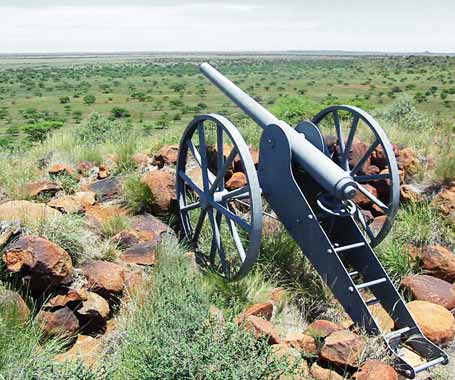 Kimberley is a town that is filled with history, and the Magersfontein Battlefield situated nearby is looked upon with both pride and heartache. The Magersfontein Battle was a short and furious battle, and although many lives were lost, this battle has an interesting story attached to it. A story of bravery, respect, empathy and compassion.
The battlefield of Magersfontein, scene of a British defeat during "Black Week" in the Boer War, lies 30 kilometres (19 miles) south of Kimberley. There is an observation point from which there are good views of the battlefield and the trenches. There is a small museum with a collection of weapons and uniforms.
Kamfersdam Flamingos
The Kamfersdam dam, situated just outside of Kimberley, is a breeding site for Lesser Flamingos. The dam and surrounding 380ha wetland area are designated as a conservation zone.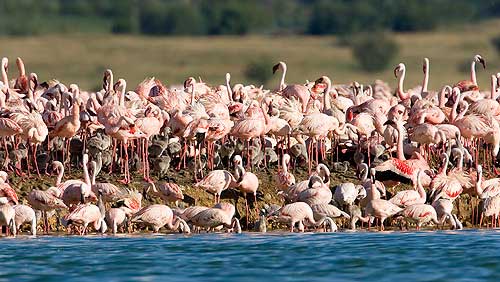 The dam typically supports 20,000 Lesser Flamingos, but occasionally over 50,000 Lesser Flamingos are present, a large proportion of the sub region's total population.
The birds are mobile and commute between the major feeding sites in southern Africa.
More information at Save The Flamingo and SA Birding.co.za
Aanloklikhede
Ons het 'n lys van Kimberley se aanloklikhede bymekaargestel. Neem u tyd om Kimberley se ryk geskiedenes en diverse kulture te geniet.
Die Groot Gat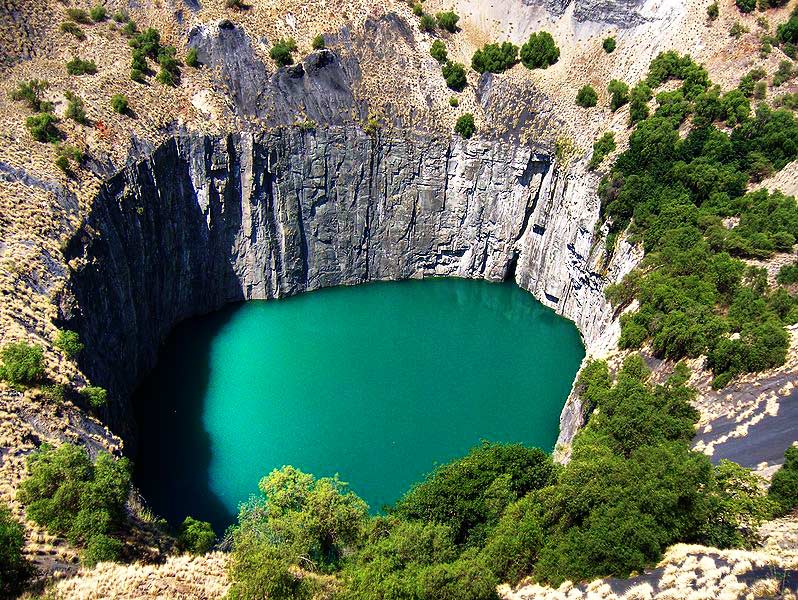 Ook genoem die Oop Myn of Kimberley Myn, die Groot Gat is 'n oopgroefmyn en die grootste hand-uitgegrawe gat. Vanaf 1871 tot 1914 het sowat 50,000 myners met pikstele en grawe 2,720kg (6,000lb) opgelewer.
Nadat die bogrondse bedrywighede te gevaarlik en onproduktief geword het, is die Kimberliet pyp van die Kimberley myn ondergrond ontgin deur Cecil John Rhodes se De Beers Maatskappy, tot 'n diepte van 1km.
In 2006 het De Beers R50 miljoen (sowat USD 7.7 miljoen) belê in die opknapping van die Groot Gat erfenis terrein. Die museum is gemoderniseer, met 'n audio-visuele teater en'n cantilevered platform aan die rand van die Groot Gat wat toelaat dat besoekers 'n vertikale kyk af in die gat kan kry.
William Humphreys Kuns Gallery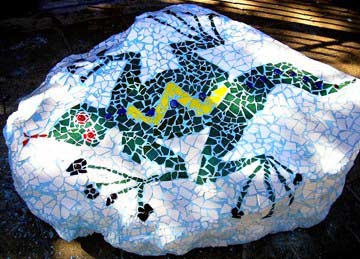 Die William Humphreys Kunsgalery word beskou as een van Suid-Afrika se beste kuns museums.
Die galery fokus op die versameling van eg Suid-Afrikaanse kunswerke.
Boonop dien die galery as 'n opvoedkundige en kulturele sentrum vir Kimberley se gemeenskap.
Besoek gerus die galery se webtuiste vir meer inligting.
McGregorMcGregor Museum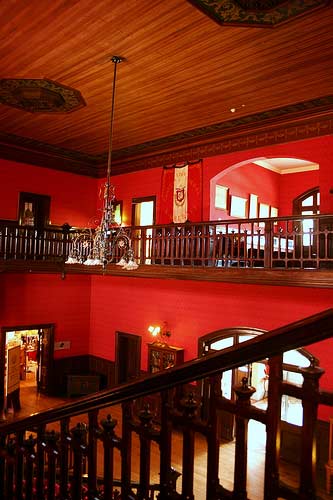 Die McGregor Museum is amptelik gestig in 1907, na aanleiding van verskeie oproepe vir die vestiging van 'n museum in Kimberley. Mev McGregor, weduwee van die vorige burgemeester van Kimberley, Alexander McGregor, het die fondse nodige geskenk.
Die gebou wat tans die museum huisves was oorspronklik gebou in 1897 deur De Beers as 'n sanatorium. Sedertdien is die gebou gebruik as 'n luukse hotel (Hotel Belgrave) en later as'n klooster skool.
Die museum bied navorsing en advies oor 'n wye verskeidenheid gemeenskapsprojekte in die Noord-Kaap. Vir meer inligting, besoek die museum se webtuiste .
Flamingo Casino
As 'n viering van die draai-van-die-eeu styl en romanse van hierdie Victoriaanse era, is die ontwerp van die Flamingo Casino gebaseer op die huidige argitektuur van die geboue in die moderne Kimberley wat die diamant stormloop oorleef het.

Die casino bied 'n prettige, opwindende en onvergeetlike speel ervaring aan sy kliënte.
Dit spog met 'n elegante restaurant,'n konferensiesentrum, kroeë en 'n kleinhandel afdeling.
The Belgravia Geskiedkundige Roete
Ervaar die lewe, geskiedenis, argitektuur, vermaak en kultuur van die historiese era diamantstormloop in Kimberley. Die begeleide roete is ongeveer 2km lank en sluit al die belangrikste historiese plekke in die gebied in.
Gedurende die staptog besoek u meer as 30 plekke van belang, insluitende die McGregor Museum, Die Halfway House, Suster Henrietta Stockdale se Verpleegkunde Kollege, die oorlog monument, Masonic tempel, die Rudd huis, Dunluce en Alex Hall Memorial Gardens
Besoek Nooordkaap Tourisme vir meer inligting.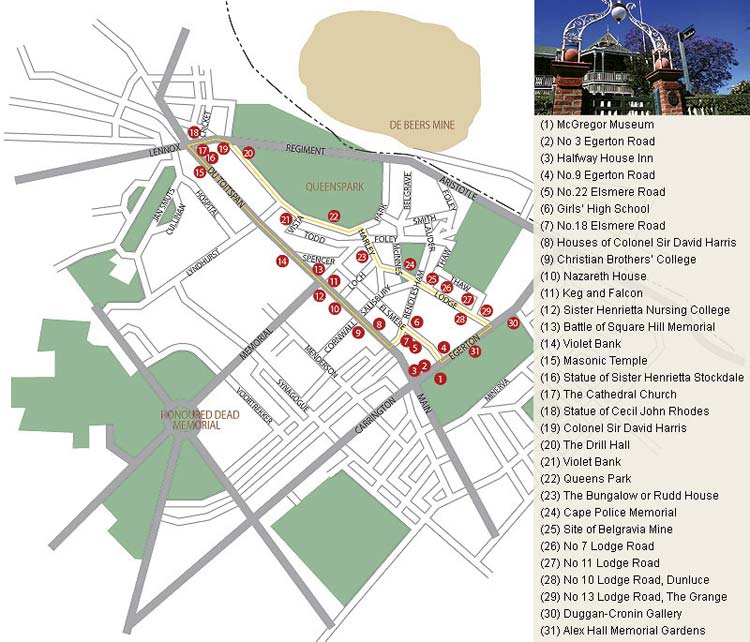 Wildebeest Kuil Rotskuns Sentrum
Die rotskuns sentrum is geleë net buite Kimberley. Dit spog met 'n besoekerssentrum waar'n 25-minute rolprent u voorstel aan die sentrum.
Die gemeenskap-gebaseerde gidse is opgelei om te u rond te wys, of u kan kies om te gaan op 'n klank-toer van die terrein (jy sal 'n klein draagbare CD-speler ontvang), en jy sal ewe boeiende kommentaar geniet by elk van die 10 gemerkte stasies.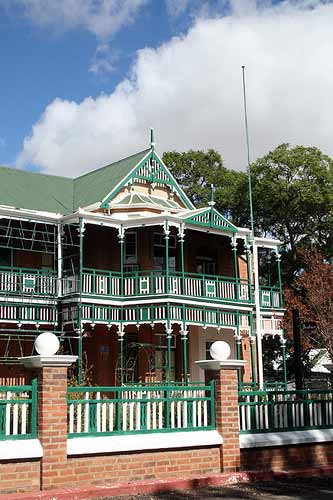 Dunluce Huis
'n Elegante huis gebou in 1897 en in 1990 verklaar as 'n nasionale monument. Die huis is ontwerp deur die bekende argitek DW Greatbatch.
Souvenir of the Siege of Kimberley , en gepubliseer deur die Diamond Fields Advertiser.
Magersfontein Slagveld (1899)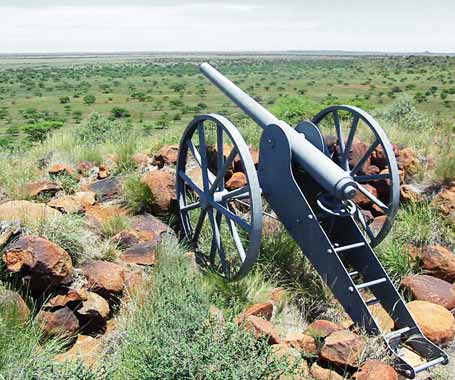 Kimberley is 'n stad gevul met geskiedenis, en die Magersfontein Slagveld nabygeleë word gesien met beide trots en hartseer. Die Magersfontein Slagveld was 'n kort en heuwige geveg en hoewel baie mense hul lewens verloor het, het hierdie stryd ;n interessante storie geheg aan dit. 'n Verhaal van moed, respek, empatie en medelye.
Die slagveld van Magersfontein, toneel van 'n Britse nederlaag gedurende die "Black Week" in die Anglo-Boereoorlog, lê 30 kilometer (19 myl) suid van Kimberley. Daar is 'n uitkykpunt van waar daar 'n goeie uitsig op die slagveld en die loopgrawe is. Daar is 'n klein museum met'n versameling van wapens en uniforms.
Kamfersdam Flamingos
Die Kamfersdam dam, gelee net buite Kimberley, is 'n broeiplek vir Lesser Flamingos. Die dam en omliggende 380ha vleiland gebied is aangewys as 'n bewaringsgebied sone.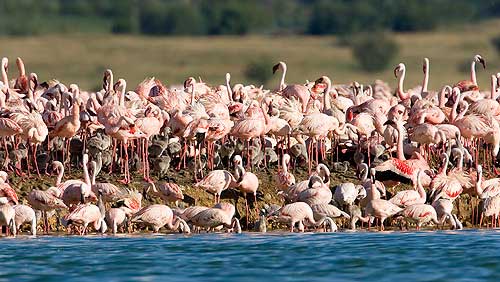 Die dam ondersteun gewoontlik 20.000 Flamingos, maar soms is meer as 50,000 Flamingos teenwoordig, 'n groot deel van die sub streek se totale bevolking.
Die voëls is mobiel en pendel tussen die groot voedingsgebiede in Suider-Afrika.
Meer inligting by Save The Flamingo en SA Birding.co.za